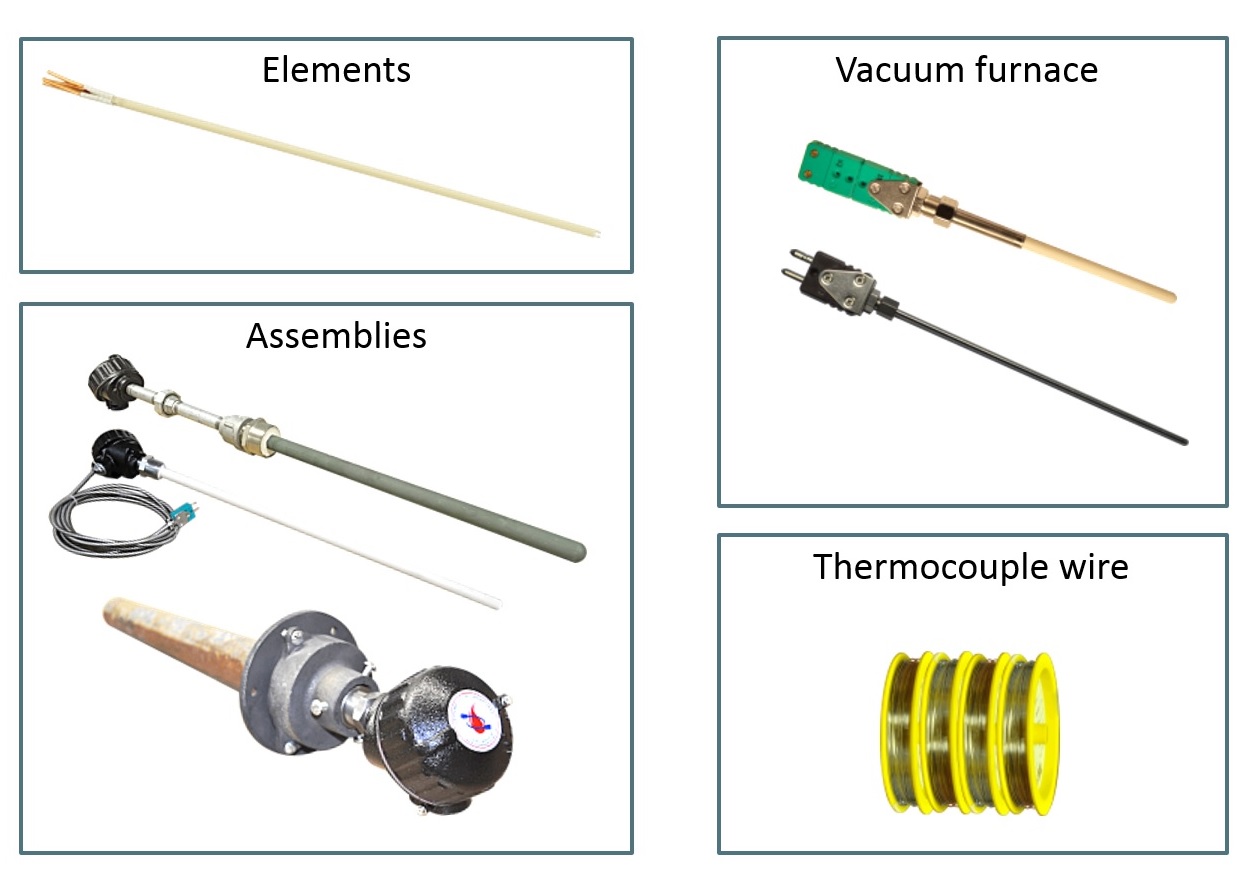 Noble Metal Composite Sheath
An excellent option where extended probe length is required, but only a portion is exposed to extreme heat
Utilizes seamless transition between differing sheath materials
–Configuration and materials as dictated by the particular application
–E.g: Inconel sheath transitioned to a Platinum/20% Rhodium alloy tip
Conductor(s) insulated with compacted MgO powder, providing an extreme temperature, highly accurate, flexible probe
Available in many calibrations, most commonly types S, R, B
Diameters 0.032" to 0.188", in both grounded and ungrounded junction types
Options: Custom lengths, terminations, reduced-diameter tips
Noble Metal High Performance Thermocouples
Product Overview
We specialize in Platinum Thermocouples for the investment casting and glass industry among other applications. CEL is a major consumer and provider of thermocouple grade and commercial grade wire and fabrications. Our Exchange Programs and Scrap Reclaim Programs are unmatched throughout the industry. For details on how these programs can add to your overall efficiency, please contact our Sales Department.
Noble Metal Elements (NME)
Noble Metal Thermocouples are available in a wide variety of configurations. Once a specific application is identified, the thermocouple can be built to order for peak performance. Available in single or multi-point assemblies, this series of products will perform well in applications of extreme temperatures, as high as 4200ºF. For information on material selection parameters for Protection Tubes and other components, please refer to the appropriate pages. Noble Metal Elements (NME).
Temperatures up to 4200°F
Platinum / Rhodium elements in Standard, Reference, and Certified materials
Type S and R used for short periods up to 3100°F, continuously up to 2700°F
Type B for temperature up to 3100°F
Type C and Tungsten/Rhenium elements up to 4200°F
Platinel II is used up to 2300°F


Noble Metal Assemblies (NMA)
• Numerous configurations for rigorous applications, temperatures up to 4200°F
• Careful component, wire, and gauge specifications will optimize every assembly
• Specifications and product code tables enable CEL users to make effective design decisions

   Noble Metal Thermocouples
Available in a wide variety of configurations
Built to order for peak performance in specific applications
Available in single or multi-point assemblies
Perform well in extreme temperature applications as high as 4200°F
Platinum/Rhodium elements in Standard, Reference, and Certified materials
Types R and S for continuous use up to 2700°F, brief periods up to 3100°F
Type B for temperatures up to 3100°F
Type C (Tungsten/Rhenium) for temperatures up to 4200°F
Platinel II up to 2300°F
| Calibration | Wire Size (IN.) | Wire Type | Insulator | Length (IN.) | Termination | Special |
| --- | --- | --- | --- | --- | --- | --- |
| R – Plat Plat/13% Rhod | 30 .010 | 1 – Standard | 1 – Bare | 000 999″ | 1 – Copper Tips | 1 – Copper Tips |
| S – Plat Plat/10% Rhod | 28 .013 | 2 – Reference Grade | 2 – .125 OD Mullite | OOO 000″ | 2 – Knife Clips/Glass Sleeving | X – Special |
| B – Plat 6%/Plat 30% Rhod | 27 .014 | 3 – Stabilized | 3 – .125 OD Alumina | | 3 – Fish Spine Beads Only | D – Dual Element |
| C – Tung 5% Tung 26% Re | 26 .016 | 4 – Certified | 4 – .187 OD Mullite | | 4 – Fish Spine Beads/CU Tips | C – Lot Certification |
| F – Platinel | 24 .020 | | 5 – .187 OD Alumina | | 5 – Fiber Glass Sleeve Only | E – Individual Cert |
| N – Nicrosil/Nisil | 23 .023 | | 6 – .250 OD Mullite | | 6 – Bare Ends Only | 2 – Dual element & Lot Certification |
| M** – Ni/Ni Moly | 22 .025 | | 7 – .250 OD Alumina | | 7 – Mini Plug W/Tube Adaptor | |
| L – Silver | 21 .028 | | 8 – .150 OD X 1″ Alumina | | 8 – Mini Plug W/Cable Clamps | |
| D – W/3% re – W/25% re | 20 .032 | | 9 – 1/16″ OD Alumina Ins | | A – SHX Alumina Plug-Mini | |
| | 18 .040 | | A – .187 OD Mullite W/Collar | | B – NHX Alumina Plug | |
| | 15 .060 | | B – .187 OD Alumina W/Collar | | H – HiTemp Mini Plug | |
| | XX Other | | C – .250 OD Mullite W/Collar | | P – HiTemp Plug/Tube Adaptor | |
| | 14 .064 | | D – .250 OD Alumina W/Collar | | G – Male Plug (400 deg) Tube Adaptor | |
| | | | E – .200 OD Mullite | | J – HiTemp Jack/Tube Adaptor | |
| | | | F – .200 OD Alumina | | K – SHX Alumina Jack/Mini | |
| | | | G – .200 OD Mullite W/Collar | | L – 2-1/2″ split leads, glass sleeve, spade lugs | |
| | | | H – .200 OD Alumina W/Collar | | | |
| | | | S – 1/16″ OD Spaghetti | | | |
| | | | T – Ceramic Braid-Twist | | | |
| | | | U – Special Insul. | | | |
| | | | M – .156 Alumina w/Collar | | | |
| T/C Calibration | Wire Size(Dia. In Inches) | Wire Type | Insulator | Optional Inner P/T | Primary P/T | Secondary P/T | Hardware | Termination Hardware | Length (IN.) | Specials |
| --- | --- | --- | --- | --- | --- | --- | --- | --- | --- | --- |
| R – Plat/13% Rhod | 30 – .010 | 1 – Std | 2 – .125 OD Mullite | 0 – No Inner Tube | M8 – 1/4″ X 3/8″ OD Mullite | O – No Secondary | O – No Hardware | A1 – 1″ Alum Screw Cover | OOO – None | O – None |
| S – Plat/10% Rhod | 28 – .013 | 2 – Ref Grade | 3 – .125 OD Alumina | 1 – 1/4″ X 3/8″ Mullite | M6 – 7/16″ X 11/16″ OD Mullite | S – Silicon Carbide w/ Collar | 1 – Support Casting Assembly | A2 – 1/2″ Alum Screw Cover | 000 – 999″ | X – Special |
| B – Plat/6%/30% Rhod | 27 – .014 | 3 – Stabilized | 4 – .187 OD Mullite | 2 – 1/4″ X 3/8″ Alumina | M4 – 1/2″ X 3/4″ OD Mullite | 1 – 3/4″ OD Silicon Carbide | 2 – Weatherproof Cover | A4 – 3/4″ Alum Screw Cover | | D – Dual Element |
| C – Tung/Rhen | 26 – .016 | 4 – Certified | 5 – .187 OD Alumina | 3 – 5mm X 7mm Mullite | M3 – 3/8″ X 1/2″ Mullite | 2 – SiliconCarbide w/o Collar | 3 – 1″ Coupling | B1 – Noble Metal Head | | C – Lot Certification (Std) |
| F – Platinel | 24 – .020 | | 6 – .250 OD Mullite | 4 – 5mm X 7mm Alumina | A8 – 1/4″ X 3/8″ OD Alumina | 3 – 1/2″ NPT Inconel | 4 – Adjustable Flange-(specify length) | B2 – 1″ Ext Thrd Noble Metal HD | | E – Individual Cert |
| N – Nicrosi/Nisil | 23 – .023 | | 7 – .250 OD Alumina | 5 – 5mm X 8mm Alumina | A6 – 7/16″ X 11/16″ OD Alumina | 4 – 3/4″ NPT Inconel | 5 Split Flange | G1 – 1″ General Purpose Head | | F – Evacuate & Backfill |
| G – Gold | 22 – .025 | | A – .187 OD Mullite W/Collar | 6 – 3/16 X 1/4″ Alumina | A4 – 1/2″ X 3/4″ OD Alumina | 5 – 1″ NPT Inconel | 6 – St. Hex Bush/Alloy Sleeve | G2 – 1/2″ General Purpose Head | | H – Effective Length |
| L – Silver | 21 – .028 | | B – .187 OD Alum W/Collar | | A3 – 3/8″ X 1/2″ Alumina | 6 – 1/4″ X 3/8″ Mullite | 7 – Hex Bushing 1″ NPT | G4 – 3/4″ General Purpose Head | | 5 – Split Flange |
| M* – Ni/Ni Moly | 20 – .032 | | C – .250 OD Mullite W/Collar | | M1 – 3/4″ X 1″ OD Mullite | 7 – 7/16″ X 11/16″ Mullite | 8 – 3/4 Hex 3/4 Fitting | S1 – 1″ Snap Cover Alum Head | | |
| | 18 – .040 | | D – .250 OD Alum W/Collar | | A1 – 3/4″ X 1″ OD Alumina | 8 – 1/2″ X 3/4″ Mullite | 9 – 3/4″ X 1″ St Hex Fitting | S2 – 1/2″ Snap Cover Alum Head | | |
| 14 – .064 | | E – 1/16″ OD Spaghetti | | M5 – 5mm X 7mm Mullite | 9 – 3/4″ X 1″ Mullite | A – Alloy Sleeve-6″ Std. | S4 – 3/4″ Snap Cover Alum Head | | | |
| | | | U – Special Insul. | | A5 – 5mm X 7mm Alumina | A – 1″ X 1-1/4″ Mullite | R – 1/2″ X 3/4″ St Hex Ftg. | 14 – Cannister Head | | |
| | | | M – .156 Alumina w/Collar | | M7 – 1″ X 1-1/4″ Mullite | B – 1/4″ X 3/8″ Alumina | T – Tapered Plug | C1 – 1″ Cast Iron Head | | |
| | | | N – .200 Alumina | | A7 – 1″ X 1-1/4″ Alumina | C – 7/16″ X 11/16″ Alumina | W – Hex Bushing, 1-1/2 | C2 – 1/2″ Cast Iron Head | | |
| | | | | | MS – 11/16″ Mullite W/356 Slv. | D – 1/2″ X 3/4″ Alumina | X – Hex Bushing, 1/2″ NPT | C4 – 3/4″ Cast Iron Head | | |
| | | | | | C4 – 3/4″ Cast Iron Head | E – 3/4″ X 1″ Alumina | F – W/P Cover with Flange | 04 – Male Plug (400 Deg F) | | |
| | | | | | AS – 11/16″ Alumina W/356 Slv. | F – 1″ X 1-1/4″ Alumina | P – 3/4 X 1-1/4 Hex Bushing | 06 – Female Jack (400 Deg F) | | |
| | | | | | AH – 11/16″ Alumina W/1/2X3/4F | G – LT-1 Metal Ceramic | Q – 1 X 1-1/2 Hex Bushing | 07 – Male Plug (800 Deg F) | | |
| | | | | | I4 – 1/4″ OD Inconel Tubing | H – 1/4″ NPT Inconel | H – 1/2-Hex-1/2 Fitting | 08 – HiTemp Plug & Jack | | |
| | | | | | I5 – 3/16″ OD Inconel Tubing | J – 1/2″ 446SS | B – 1/2″ X Close Nipple | 09 – Female Jack (800 Deg F) | | |
| | | | | | MN – 11/16″ Mullite W/ 3/4 Nipl-Close | K – 3/4 309 | C – Close Nipple | 05 – Plug & Jack (400 Deg F) | | |
| | | | | | AN – 11/16″ Alumina W/ 3/4 Nipl-Close | L – 3/4″ NPT 446SS | E – Hex Bushing,3/4″ NPT | R4 – 3/4″ Ram Cast Iron S.C. | | |
| | | | | | AF – 11/16″ Alum 3/4 Hex 3/4 SS | M – 3/4″ NPT 310SS | J – Alloy Sleeve-(6″) | R2 – 1/2″ Ram Cast Iron S.C. | | |
| | | | | | MF – 11/16″ Mull 3/4 Hex 3/4 SS | T – 3/4″ 253 Alloy | K – 3/4 X 1-1/4 Hex Nipple | PA – Plug & Tube Adaptor | | |
| | | | | | A2 – 3/16 x 1/4″ OD Alumina | U – 3/8″ NPT Inconel | | 16 – HiTemp Plastic W/P Head Mini Screw Cover | | |
| | | | | | H3 – Hexoloy | W – 1/2″ 253 Alloy | | OO – No Head | | |
| | | | | | A9 – 1/8 X 3/16 Alumina | X – 3/4 NPT 304 | | 17 – HiTemp Plug & Tube Adaptor | | |
| | | | | | M2 – 3/16 X 1/4″ OD Mullite | | | 18 – Ceramic Plug | | |
| | | | | | M9 – 1/8 X 3/16 " OD Mullite | | | 19 – Ceramic Jack | | |
| | | | | | AO – 3/16 x 5/16 OD Alumina | | | 08 – Hi Temp Plug & Jack | | |
| | | | | | AA – 5/16 X 7/16 Alumina | | | E1 – 1″ NPT Stainless Steel Screw Cover Head W/Block | | |
| | | | | | HL – 5/16 x 5/8 Halsic "R" | | | E5 – 1/2″ NPT Stainless Steel Screw Cover Head W/Block E2 was changed to E5. | | |
| | | | | | HM – 3/8 x 11/16 Halsic "R" | | | E4 – 3/4″ NPT Stainless Steel Screw Cover Head W/Block E2 was already used in catalog. | | |
| | | | | | I8 – 3/8″ OD Inconel Tubing | | | D1 – 1″ Pyro Alum Flip Top w/Block | | |
| | | | | | | | | D2 – 1/2″ Pyro Alum Flip Top w/Block | | |
| | | | | | | | | D4 – 3/4″ Pyro Alum Flip Top w/Block | | |
| | | | | | | | | 02 – 2-1/2″ Leads and Crimped Spade Lugs | | |
| | | | | | | | | 20 – Mini Male Plug | | |
| | | | | | | | | SA – H-775-1 Head | | |
**CEL identification only – none established. Nickel .8% Cobalt/Nickel 18% Moly